W
hatever you do tonight, please be safe and have fun. We'll be handing out candy for the first time since we've lived here (we were in Oregon last Halloween), so I'm very excited to see how many kids we get! (Although I'd be lying if I didn't say that I'm worried we may have over bought--
again
--on our candy and we'll be eating leftovers until New Year's!)
And although it's super late to be showing off Halloween decor, I did want to show you what I made for our front yard. I'd purchased a few things from Target to "spook up" our little walk way. A graveyard sign and a Styrofoam tombstone, but I quickly realized one sign and one tombstone does not a graveyard make.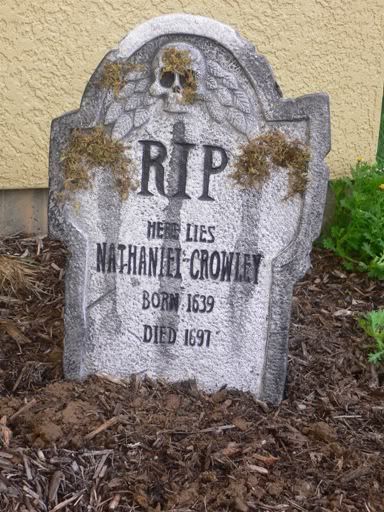 So, after one too many viewings of Tim Burton's "Sleepy Hollow," I came up with these: homemade tombstones.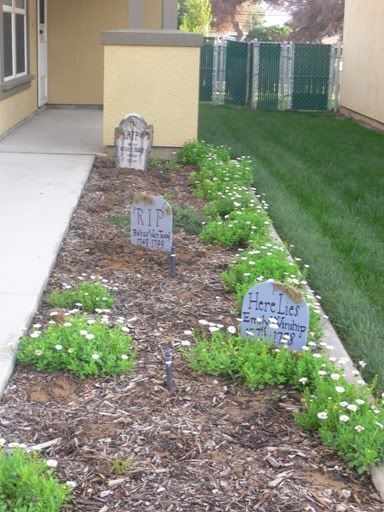 Okay, so maybe three tombstones do not a graveyard make either but still...can't have a whole host of ghosts chillin' in our front yard. ;) I used some scrap plywood leftover from when I made
our headboard
and traced one of my neighbor's store-bought tombstones for a template (thanks neighbors!). Using my hand-me-down jigsaw, I cut 'em out, sanded down the edges, and mixed up some black and yellow paint to make grey (apparently any light color paint with black makes grey! good to know.)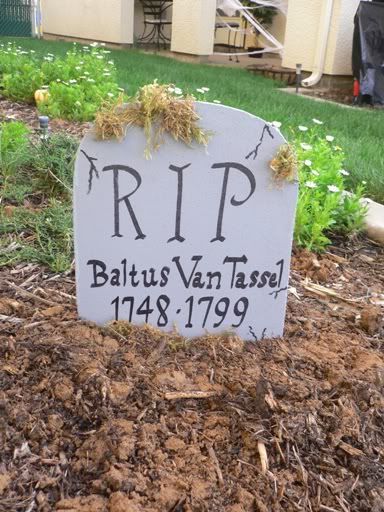 For the writing, I had been planning on either using modge podge or making a stencil, but in the end I freehanded it with a big fat sharpie marker. I just printed out what I wanted each headstone to say and did my best not to mess it up!
I hot glued some moss onto each one, painted a few cracks onto the "stone," and buried them in the ground about an inch or two deep. We've had some pretty serious winds around here lately and these babies haven't budged!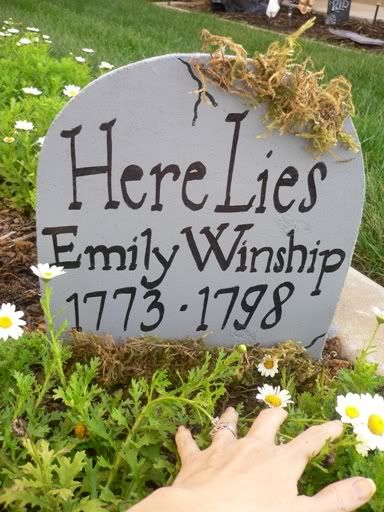 I also tucked in a few pumpkins just to give it more of a harvest-y feel (although the pretty striped guy is actually called Tiger Squash). The daisies I planted over the summer have shot up in random patches, and I can't let you go on your merry way without pointing out that my dearly departed are in fact "pushing up daisies." (yuk yuk yuk!)
Total cost for the whole shebang: $0! I had everything on hand. Next year I think I'd like to make some that are a little more complicated. Of course, there's nothing wrong with the classic shape of an arched grave marker.
Happy spooking!