S
o here's how we went about doing our mini-vacay on a budget...
The Tickets
Work the discounts! I know insurance groups like AAA have travel and ticket discounts, but here on base we have ITT (Information Tickets & Travel). They offer discounted tickets to almost all the local attractions (we found we can even buy discount annual passes through them--something we're seriously considering). Two one-day-one-park passes ran us a total of $146 (at the gate it would have been $152).
The Hotel
I will admit, I'm a snob when it comes to my sleeping quarters. I will
not
do the cheapest motel just because it can save me money (truth be told, I don't think I've stayed in a "motel" in a very long time). I get skeeved out by rundown chains and I'm a freak about not only mine and my husband's well being, but that of our one and only family vehicle sitting outside. So going über cheap on a place was not an option. But neither were the "discounted" rates the Marine Corps got us for the weekend of the ball. We had two choices through them: the Disneyland Hotel (at $200 a freaking night!) or the Holiday Inn (at $150 per night). That meant a 2-night stay was going to run us a minimum of $300, before taxes, room charges, and parking were factored in.
Thankfully, Jason and I are members of a travel club and we were able to snag a good deal at the swanky Hotel Ménage, a mere mile from Disneyland (bonus: no parking fees in the park--for $4 we got an all day shuttle pass). The total for a 3 day/2night stay came to $195.20 after taxes and all that jazz (keep in mind, we were also up there for the Marine Corps Ball, so some expenses spill over from that. If I wanted to cheat--
which I so do
--I could say that our hotel fee for the mini vacay was only $97.60).
The Gear
Jason and I are notorious souvenir purchasers. Shot glasses from every location we've ever been to (including Bagdad, Romania and other foreign deployment countries)? Check. Mickey and Minnie bride and groom hats? Check check! Photos from the photo booth at the fair ever.single.year? Check! So I knew getting through Disneyland totally unscathed was going to be difficult. Then I read on another blog about a Mom purchasing Disney gear for her family
before
entering the park. They still got to look like tourists, but their wallets hadn't suffered any. So I started looking. And I came across, what I'm calling, "grown-up" Disney t-shirts.
These two adorable designs are from Snorg Tees. Total after shipping: $43. Not
exactly
the most budget friendly, but after checking at the park I found two adult t-shirts cost $29.99, plus Orange County's lovely sales tax of 8.75% and we're looking at almost $66 for shirts (that aren't even as clever as ours)! So, yes, although I did have to justify this purchase a little, I'm still glad I did it.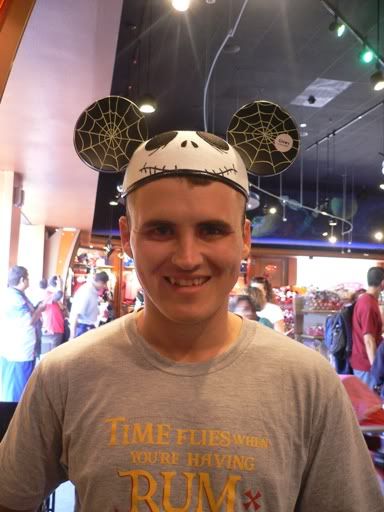 time flies when you're having rum!

6 out of 7 dwarfs are not happy.

This also brings me to another good way we save money on trips like this: we take pictures of us in the silly I'd-never-actually-wear-this-but-it's-so-cute-I-want-to-take-it-home-with-me-anyways souveniers. Would I ever wear this candy cane headband/hat combo? No. But does the picture remind me of how much fun we had up there? YES.
The Food
Always the most expensive part of any vacation! But I'm proud to say we never paid more than $30 for a single meal--for
both
of us, not per entree.
Breakfast
First things first, find out if your hotel offers any sort of continental breakfast. A banana, orange juice and a bagel is a great filling meal and will keep you full for the first few hours. The Hotel Ménage featured a menu where nothing was over $10 a plate. Their breakfast portions are somewhat large (try the breakfast burrito--it's a perfect plate to share) and we spent $16 gearing up for Disney.
Lunch
I've known people to bring their own lunches and eat in the park, but we didn't want to be burdened with carrying around a back pack or paying for a locker ($7-$15 for the day). Instead, I scouted the park restaurants to see who gave you the most food for your money.
picture courtesy of the disneyland dinning page.
Rancho del Zocalo got the highest marks for affordability versus portion size. It's a cafeteria style restaurant located next to Big Thunder Mountain in Frontier Land. For just under $20 Jason and shared a plate of their Mahi Mahi tacos (delicious and spicy!) with rice and beans, along with some chips, salsa, and a bottle of water. One of the best things about this restaurant is they have a spot designated specifically for refilling water bottles (more people tend to wash their hands in water fountains than drink from them). We kept the bottle full for the whole day and only paid for it once!
Dinner
Since we knew our hotel offered good food for cheap prices, we headed back there for dinner (bonus: we didn't miss out on the fireworks display--we could see them from our balconies and from the pool or hot tub at the hotel). For dinner, the restaurant had different "cities" that you could sample cuisine from (think gumbo and shrimp po'boys from New Orleans, or brie and prosciutto sandwich from Paris) served "street style." Smaller portions served up in little paper trays or on skewers. Jason opted to build-a-burger, and I had food from Bangkok (Thai calamari with a chili glaze), San Francisco's China Town (chow mein noodles with veggies), and Los Angeles (fish tacos). For dessert we had crème brûlée and churros. Along with Jason's beer and the tip our total came to just under $30.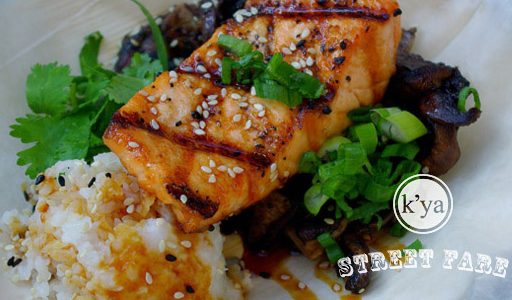 picture courtesy of the hotel ménage dinning page. this is their hibachi salmon.
Total Mini Vacay Cost
Tickets: $142
Hotel: $98
Dinning: $66
Souveniers: $43
Total: $349
Of course, the best part of any vacation is actually the memories you come home with!
waiting in line for the matterhorn.
the whole group: me, jason, stacey, jake, ashley, josh.