I
went to Home Depot the other day to stock up on lumber for my first project from
Ana White
(more on that in another post). I was walking through the paint section to pick up my little quart of Behr "Artist Canvas" (my favorite white roll-on paint), when I noticed the pulls and knobs section. I don't know why it's in the same section as the paint, but, whatever. I wanted to see if I saw something I liked for our coffee table. I've been feeling a little "meh" about the mercury glass knobs that are on there now (from
Anthropologie
).
When I saw these at Home Depot, I was immediately enamored. Plus at only $2 a pop, they were much cheaper than my current $8 knobs.
I know right? Not exactly what you'd look at and go "YES. That's my knob. Right there." But I wasn't even looking at their oddly mixed gold and silver finish (in my head they were already repainted oil rubbed bronze) because I was too wrapped up in the basket-weave-meets-Celtic-knot vibe I was getting from them. I've secretly always been looking for a great Irish feeling drawer pull.
You know me
, I'll sneak an Irish (or Scottish) element in anywhere I can.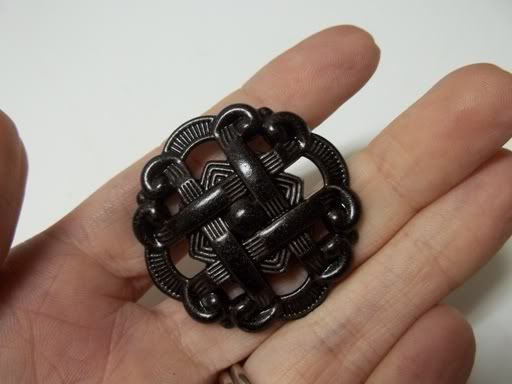 So I shot 'em with primer, gave them ample drying time (a.k.a., an episode of "Color Splash" on Hulu), and shot 'em with some Rust-Oleum Oil Rubbed Bronze spray paint (it's part of their Universal Metallic line) followed by lots of drying time (a.k.a. a day at work). I don't know why but it seems this type of paint stays tacky a lot longer than traditional spray paint. The one and only drawback.
I love the way the dark metal stands out against the white finish of our coffee table (if you missed how it came to be, you can see it
here
).
And just because he's so wonderful, I have to show of the gorgeous roses Jason got me for Valentine's Day/our anniversary (which is tomorrow!).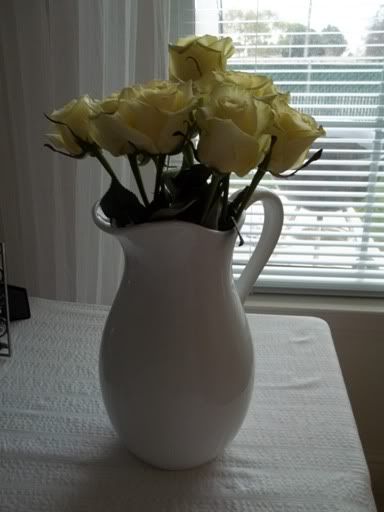 (sorry for the dark photo. we have like, no sun here right now.
i figured dark and moody was better than blown out and bright).
They're the creamiest roses I've ever seen, and I still can't nail down their color (ivory? pale yellow? pale green?). He had to stand a 24-hour duty on Monday so we had Valentine's Day dinner in our car during his dinner hour. When I came home from work on Tuesday, he had roses all over our room and a little wrapped box of my favorite See's chocolates. ♥
I'm linking up to:
The Before & After Party
@ Thrifty Decor Chick