I
had to push my recap of February's 1/12 for another day because I just
could not
wait to show you this! (I also couldn't resist using a line from the old 1942 song "
Knock on Wood
" featured in
Casablanca
. And since we're talking about the furniture I built from plans by Miss Ana White (a.k.a Knock
Off
Wood) the song seemed highly appropriate!) :D
But first, let me tell you how this project came to fruition. You remember my
$5 side table right
? I made it out of our TV trays and a piece of fabric.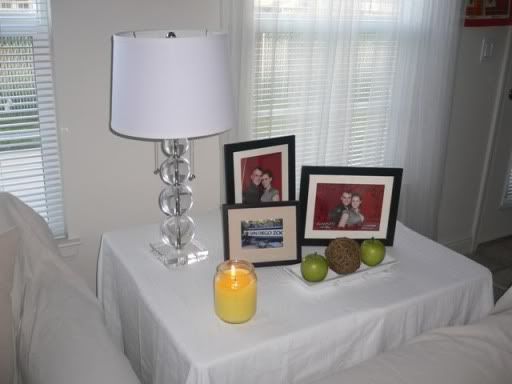 We always knew it wasn't going to be permanent, but it's been working
really well
for our purposes. I've never showed you one of the key "features" of this table, and that is its amazing storage capacity.
Are you rolling on the floor laughing, or beating your chest in horror at the unsightliness of this mess? I know it's pretty bad, right? When the skirt is down you can't even see it, so I've never worried about my lack of DVD organization skills. But we've really started to miss our TV trays. Like many American families, we like to watch our shows while we eat. It's how we unwind. And balancing plates on laps, hands, or hunkering over the coffee table just wasn't cutting it anymore. I had to find a permanent solution.
Enter Ana White. Her geniusness in the blogging world has yet to be surpassed (in my humble opinion), and when I saw her
Square Modern Farmhouse Table
, I was dumbstruck. I just loved everything about it (especially how it would complement our coffee table without actually
matching
it). It was originally blueprinted to be a dining room table, but after realizing the measurements were absolutely perfect for the corners of my couches, I decided to just lop off a few inches from the legs and turn it into an end table.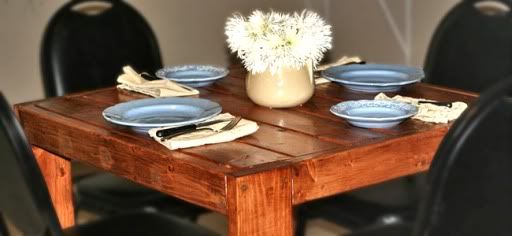 Here's how ours turned out.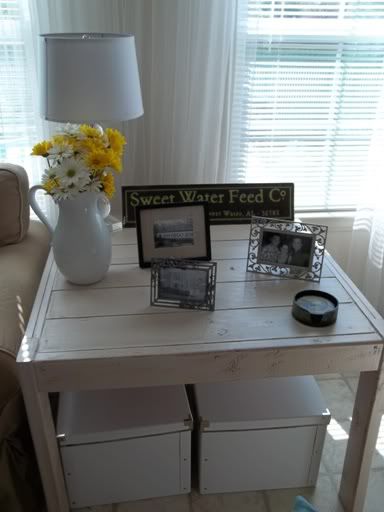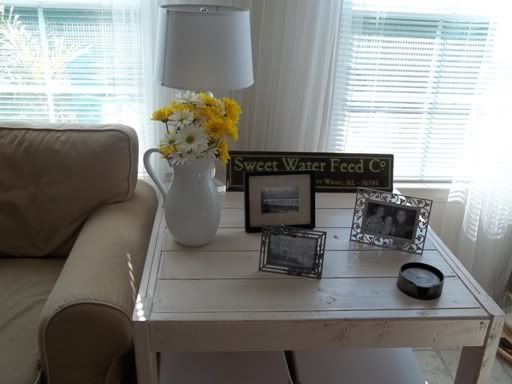 Our storage issue was easily solved by 4 Kassett boxes from IKEA. We have these in our office and I
pink puffy he♥rt
love them. They hide a multitude of sins, while still looking neat, organized, and perfectly lovely. I chose white ones so they would blend in more than stand out.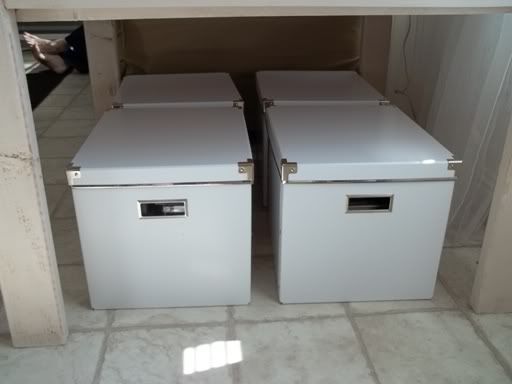 The table is painted in my favorite white paint, Behr Paint and Primer in One "Artist's Canvas" (I used a semi gloss finish so non-coaster using people wouldn't ruin the wood with water rings). The color is a lot like "Heirloom White" for you Rust-Oleum users. I distressed the edges a little and used a little Ralph Lauren Smoke glaze on them and the entire table. For anyone wondering what a difference glaze makes, here's a side by side comparison of the same section before and after glazing.
I ended up spending $69 on supplies for the table ($46 was lumber, $15 was for my quart of paint, $8 was on hardware), and another $22 for the storage boxes, bringing our total to $91. Ana's site says the total cost for the table is around $20, but I think that's partly assuming you already have some of the hardware you need, which I definitely didn't. Also, the plan calls for pine which wasn't available at my neighborhood Home Depot, so I used Douglas Fir which was
almost
the same cost wise.
Overall, I'm very happy with how it turned out! In actual time, I spent a week on it from purchasing the lumber to finishing the glaze. But if you gave it your undivided attention, I think it could easily be done in a single weekend. It fits into the corners of our couches perfectly, and because it's not covered in a table cloth, I think visually it's a lot lighter (but physically, this little sucker is
heavy
!).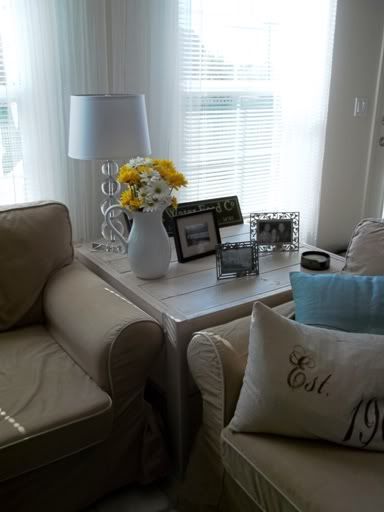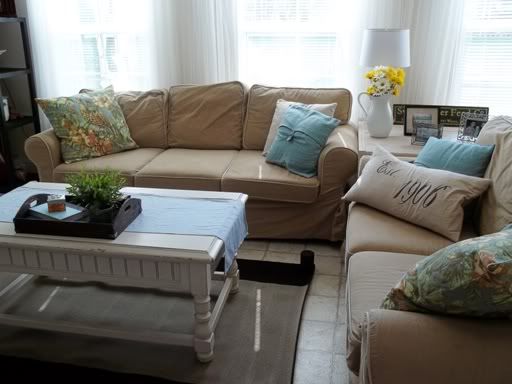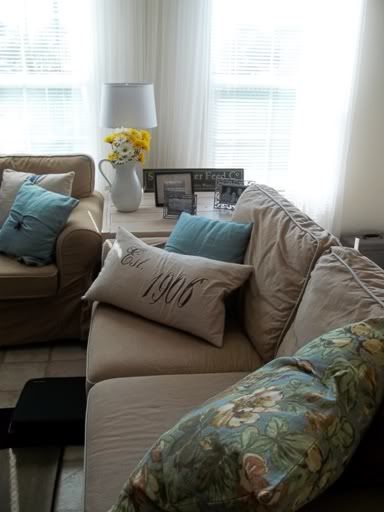 I'm already looking at plans for my next project--thinking our bedroom could use some better night stands. Something a bit more beefy to hold its own against that high dramatic headboard we've got going on in there. I think I'd even like to try and build (gulp!) a dinning room table one of these days!
I'm linking up to:
Transformation Thursday
@ The Shabby Chic Cottage
DIY Project Parade
@ The DIY Show Off
The Before & After Party
@ Thrifty Decor Chick
So what do you think?