I
love it when my mother spends the weekend with us. For one, it motivates me to get my butt in gear and clean the house, plus finish a few projects. One of which was a new set of café-style curtains for our kitchen. I'll touch on them in another post, but here's a sneak preview.
Mostly what I love about my Mom is that we somehow manage to turn the simplest shopping expeditions into a photo-op at every turn. I'm pretty sure it's one of the reasons Jason doesn't like to go shopping with us. ;) Observe.


(we take pictures with tin signs.)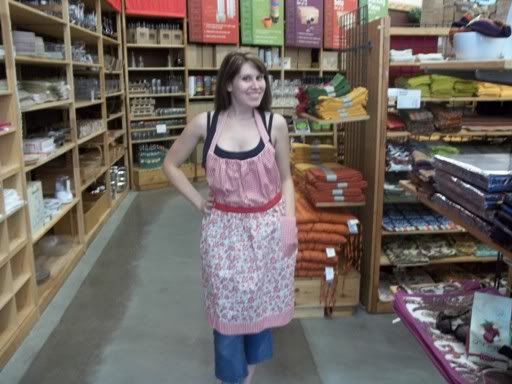 (just call me suzy--homemaker that is. i actually went back on sunday and bought this.)




(here comes peter cotton tail, hopping down the bunny trail...)




(...hippity hoppity easter's on its way!)




(why yes, we are making bunny buck teeth.)
But enough of our foolishness, how about some eye candy? We were both in LUVRE with this patio set. The dishes were the most fun colors and they just scream summer time. Although I did mention to my mom that I thought a chair in yellow or green would be in order in addition to the red, white, and blue.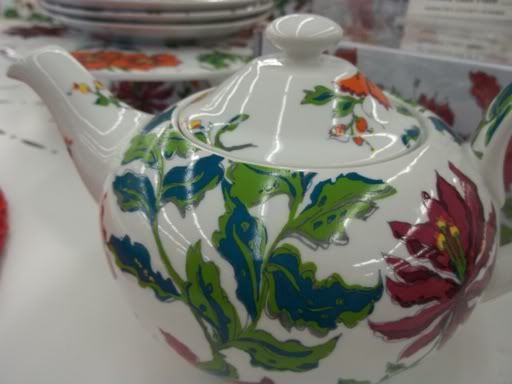 I don't know what the deal is with owls right now, but they had them everywhere! From jewelry to pillows to gift bags--and they were adorable! How cute would this gift bag look framed as art work in a nursery?
This industrial looking end table had my heart swooning. It was a bit steep at $170, but I know there are others out there that are much more expensive. So to someone else this may be a bargain! They had a matching coffee table for $250 (sorry for the flash).
I loved love loved this farmhouse end table, plus its matching console and coffee table. I totally would have used something like this had I not built our side table instead (not this one though, as it was way out of my budget at $180).
We came home with lots of goodies, but I'll save those for another post. Hope you had a great weekend!