J
ust reading the directions for these dishes is making my mouth water. The stew sounds hearty and like Irish soul food. I'm think I may add a splash of Guinness to give a bit of a stout taste and provide more broth for bread dipping.
The Main Dish
Slow-Cooker Vegetarian Irish Stew
Irish Soda Bread
Dessert
Irish Whiskey Cake
Irish tea
In other St. Patrick's Day news, the table is very slowly coming together! One of my favorite inspirational photos is this one right here. For some reason this captures the feeling I'm going for all in this one tiny shot--well, minus the green oatmeal!
The natural colored linen napkins, and table cloth, classic white dishes, the old silverware bundled with a bit of twine, and a little shamrock to finish it off. And I knew exactly where to find those napkins.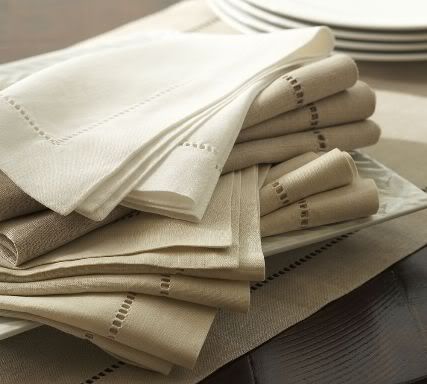 Pottery Barn's Hemstitch linen napkins. Everything about them is perfect. Except the price. A set of six was going to set me back $56 (no matter what the table is set for, I always buy things in a set of six because that's how many people our table can actually hold). I was bumming hard. Over $9 per napkin?! There was no way I could justify it even if they came out every holiday because I'd constantly be worried about people actually
using
them. And what's the point in that? But then I found these.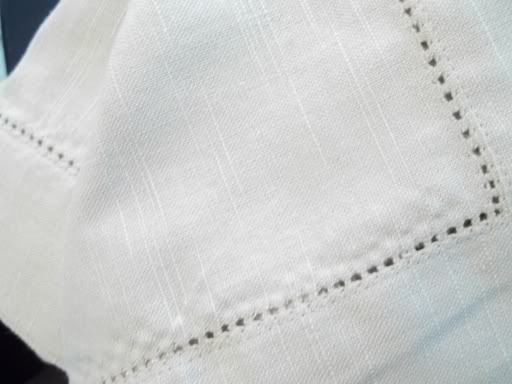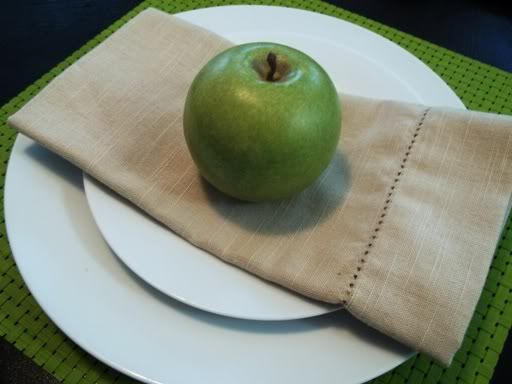 (this is a better representation of their color.
can you tell i was trying to be all pottery barn-like when i took this shot??)
Hemstitch napkins from Pier One for only $4 per napkin! Their color and texture are perfect. The biggest difference between mine and the Pottery Barn ones? Mine are made of cotton. Which I am 100% okay with because they're actually cotton and not a polyester blend. Easily washable and maintainable. And at $24 for a set of six I was doing a little (Irish) jig as I carried them up to the register.
Now I just have to decide what to do about a table cloth...