W
hen I did our master bedroom make over back in September, I didn't take into account that the changing seasons might have something to do with the reason I was going with richer hues like our chocolaty headboard.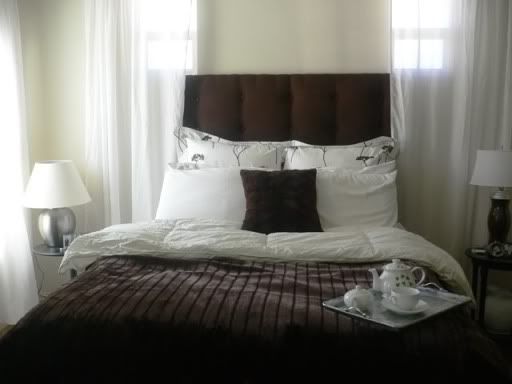 (to see how i made it, click here)
But now that the seasons are changing again, I'm dying for some freaking color! The white curtains have me feeling very blaaaaah. The brown? I'm over it. All the black furniture? Yawn! But of course with my newly established 1/12 for April, I can't just run out and buy new decor for the room. I have to work with what I've got!
My first order of business was the windows. I was trying to figure out the
cheapest
most cost effective way to get a new look without breaking the bank. I think curtains make or break a room and I always begin every new redecorating project by addressing the windows. So to get rid of some of the black (which I felt was
really
bringing down the room for spring/summer) I grabbed some leftover spray paint I purchased back in December, pulled down the rods (
actually $2 PVC-pipes
) and brackets and went to town (I used Rust-Oleum's Metallic Antique Bronze spray paint for a subtle sheen and a little variation)!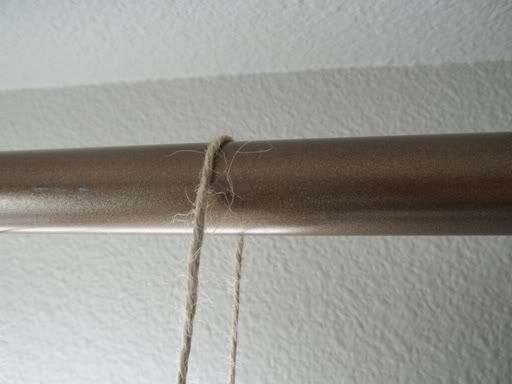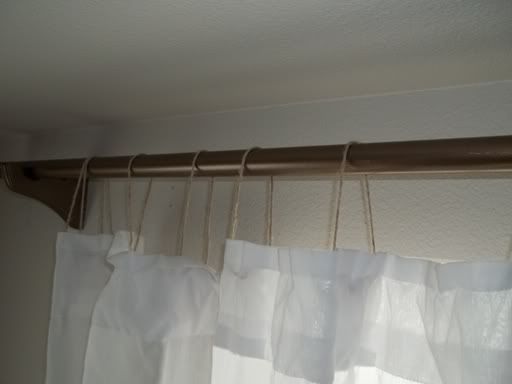 The curtains aren't 100% finished (I'll touch on their make-over in another post) but I decided to shake things up a bit and add a tiny country touch to them--I used jute twine to hang them around the rod. I think it adds a very cute detail! I cut even lengths of twine and tied them around the tabs of the curtains. Then I tucked the knot underneath the tab so it would be hidden (...um, forgive the chipped nail polish!).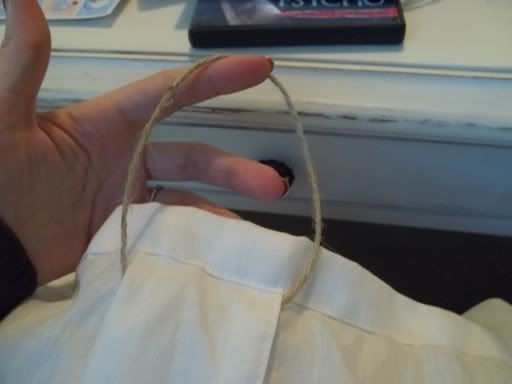 By far this was the most tedious process. My fingers were a little sore after all was said and done. It took me an episode of Bones and Glee on Netflix before I had everything cut and tied on. Where was Tessie while I did all this? Where else but in mama's lap!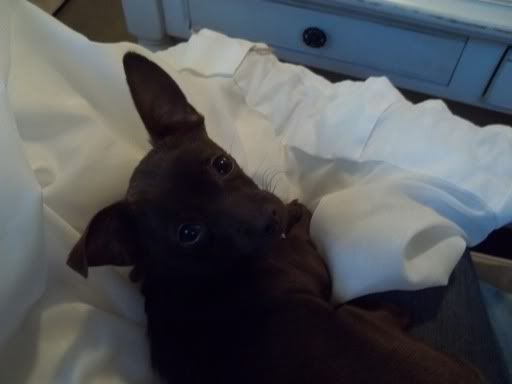 In keeping with the new gold hardware in the bedroom (so it didn't look too odd with everything else being silver), I decided to go ahead and paint my dresser mirror as well. It was a $10 mirror I picked up at Wal-Mart, and it really anchored the dresser against an otherwise empty and looming wall.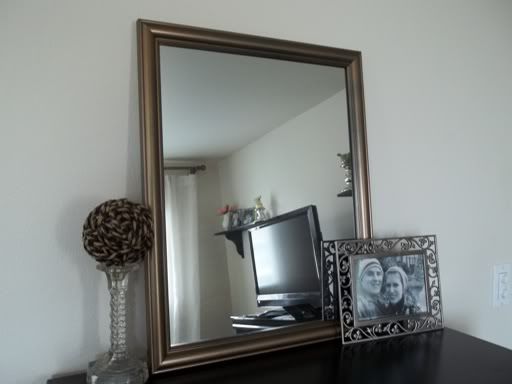 BTW, I buy my jute twine at Home Depot. 190-feet will cost you less than $2.50.
Upcoming projects to bring our master bedroom into a new season
:
- updating the dresser ("new" drawer pulls and a little paint)
- changing out the bedding
- repainting the wall shelves and adding some trim to beef 'em up a bit
- repainting the bed side tables
- updating the head board
- adding another shelf
Overall I'm going for more of a fresh country-cottagey kind of feel without going over board. Or over budget...or lack thereof ;)