i
n taking your sweet time on a project. See, after we got our fabulous new couches back in February, we realized that we suddenly had a lot more room in our dinning/living room. Like, a lot more. As in, "holy crap I think we added a few extra square footage to the downstairs of our house" more.
And the first thought that sprung to mind when I saw all that room?
I need a console table! Right behind the couch, something for serving up breakfast buffets and storing placemats and extra dishes.
Did I rush right out to the stores and start shopping? Did I hell! I ran right over to Ana White's website! And I saw this.
Simple, no muss, no fuss, just perfect. A little something modern to go with all my country. And the best part was I had some left over MDF that would be perfect sitting in the garage.
Sweet! Free console table!
Okay, pause for a second here. Did you notice the month in which I had this idea?
February
. And yes, we're now in
April
. I got so frustrated with all the cutting (you know
I tend to be a little jigsaw impaired
) that the project sat in our garage for over
a month
before I ever went back to working on it. But once I did, things ran (somewhat) smoothly.
Somewhat
. Here's where I'm at currently: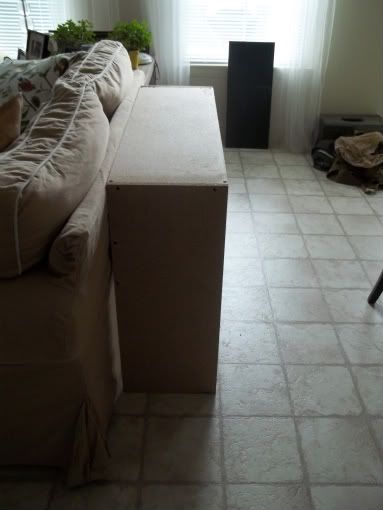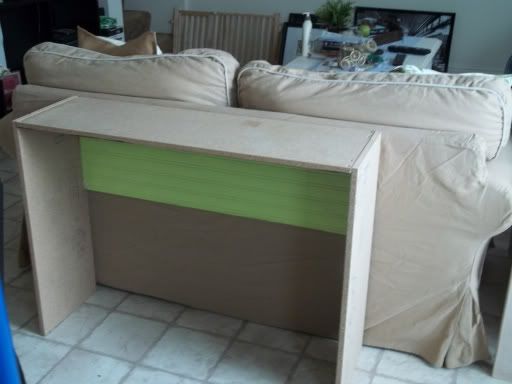 1.) Yes, the table is shorter than the couch. No, I don't want it to stay that way, but I decided to work with what I've got. 2.) The green strip you see in the back is painted bead board wallpaper. I promise I'll touch on that when the piece is done, but for now it's kind of a moot point (and I'm not sure that it's going to stay that color green...). 3.) Yes, the whole table is being painted. I'm not leaving it the lovely "natural" shade it is now.
Believe it or not, this thing was almost complete. But ugh(!!!) it was horrible. Case in point: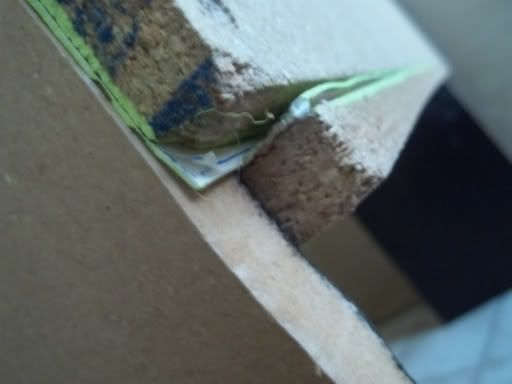 GAPS! I put it together wrong the first time I tried it, leaving raw edges, gaps, and a bunch of ill fitting pieces. I was so frustrated. Jason told me to sleep on it, and when I woke up the next morning I knew I had to take it apart. Much as I didn't want to, I knew it would be more work to try and fix the table in its current state rather than going back and doing it the
right
way.
I have to re-cut the shelf because I made the other one too short. Which means I also have to reline it with the bead board, which is why the back probably won't stay green. I only had a small sample jar of "Carolina Parakeet" and it's pretty much gone at this point. But I have plenty of other leftover and samples of paint. I'm thinking I may use a pretty pale yellow called "Banana Cream" which I haven't used in a while. I hope it hasn't gone bad...
Anyhoo, so that's where I'm at. I figured you may as well see the in-progress pictures since I have oh so many of those right now! I really am hoping to have the shelf cut and attached by Friday, and since Jason will be on duty this weekend, I'm hoping I can talk my mom into coming over and keeping me company while I paint, paint, paint the days away.