I
don't know about you, but we
have
used to have a mail issue at our house.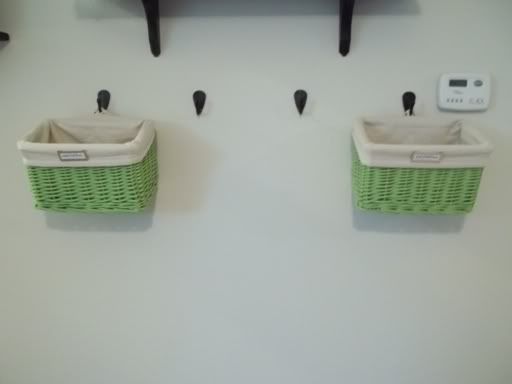 It went everywhere--the dinning table, the book cases, the end tables, the kitchen counters. The circulars didn't get recycled, the ads didn't get torn up, and credit card offers didn't get shredded. Pain. In. The. Ass.
So I grabbed some craft baskets that were collecting dust (where else but
on the book cases
?) and hung them up on some hooks that were originally put up for Christmas stockings (we don't have a mantle and I'm a sucker for hooks so I wasn't in a hurry to take them down).
I debated on making tags out of remnants and chalkboard fabric, but I had a feeling that would make them look a little more country than I wanted. So instead I attached some lable holders (originally from my Kassett storage boxes from IKEA) using hot glue.
Boom. Mailboxes. Total cost? Free! Bonus: the extra hooks are great for hanging my purse or Jason's jacket when we walk through the door.