O
ur tree was down by noon on December 27. Yeah, I was
done
with Christmas this year. I wanted to tear down the holly garland, pack up the tree, and move onto Spring. Then I looked over at my couches and saw the old bird pillows. A little worn out and a little deflated (thanks to constantly being hugged, tugged, and slept on by the slew of Marines we have over)--they weren't exactly screaming "bring on the new year!" So I hopped online and started scanning the sale section of my favorite decor website: Pottery Barn, duh. I was seeing a lot of red (in the good way) but when I saw these, I had to do a double take.
in case you can't see that teeny tiny print, it says $9.99 marked down from $29
I mean, $10 for a Pottery Barn pillow?! A
big
22" x 22" one?? I can get three for the price of one? It was definitely worth taking a closer look. I had seen these in-store and tried to talk my mom into them because the white one had shades of green and purple in it (Mom has a Tuscan-wine feel to her house). I was hoping the ones on sale were the blue ones--the ones that would go with
our
decor.
And they were
! I can't wait to start playing around with that great golden yellow it's got going on.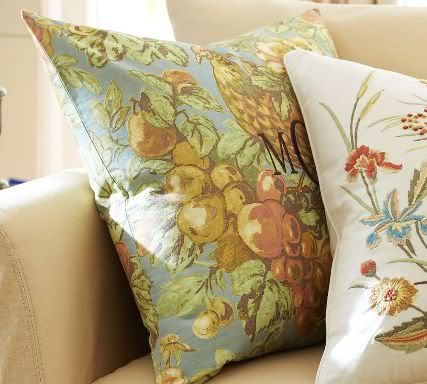 sorry to anyone who has them monogramed, but that's not the look we'll be rocking--too busy with all that print
Now that the couches were getting a little post-Christmas love, I figured I'd get to work on my table. Down came the winter-esque tablescape. I decided to play with some black and white Martha Stewart dishes my step-mom bought me. I love the little scalloped edges.
But the table was looking pret-ty bare without the holiday place mats. So, wanting something a little more modern I popped over to CB2's website, where I found these for a whopping $0.95 a piece!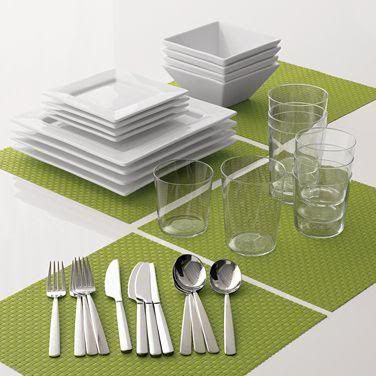 They're simple lime/apple green basket weave placemats, but I think with the current black and white dish/table combo I got going on right now, they'll add a fresh pop of color and a little pizzazz.
So there you have it, some post-holiday sales to give my house (and myself) a little pick-me-up. Once the table linens arrive, I'll show you a shot of everything put together and the new centerpiece I'm rocking right now.
Anyone else snatching up some great sale items that aren't actually Christmas-y?