W
e've been wanting new sofas for quite a while now. We've tried living with the old ones by re-stuffing them, slip-covering them, drop-cloth-covering them, anything to make them seem like new. But I think when it comes down to it, we really are just ready for new ones. Exploring our options has been fun, and here's where we're considering right now:
The Ektorp line from IKEA, which would run us $954.83 after tax (oh yeah, I did
that
kind of math). Classic IKEA and a classic knock-off for Pottery Barn's traditional slip covered sofas. But almost $1000 for a set? I guess it's just the DIY-er in me screaming
I can do a whole room with $1000!
I wish I didn't love these so much (although admittedly, even at $1000, they're still half the price of
one
Pottery Barn Basic Sofa).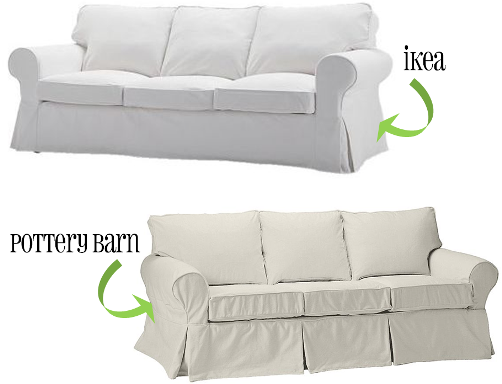 The Karlstad line from IKEA, which would run us $846.07 after tax. I love that they can look super modern if you use a short slipcover, but can also look very country-cottage with the long ones.
We were pretty much resolved to just save our pennies and get either one of the IKEA sets until Google spit out the
Home Reserve
website from one of my searches for living room furniture. I've seen their name around the blogosphere once or twice so I was anxious to give the website a little peeky peek. I immediately fell for their Laney sofa in the Ranger Twill White. It plus a matching loveseat would run $778 after all is said and done. Yes, we'd only be saving $68-$177 overall, but somehow a price tag that's
well below
$1000 makes me feel better (financially, that is).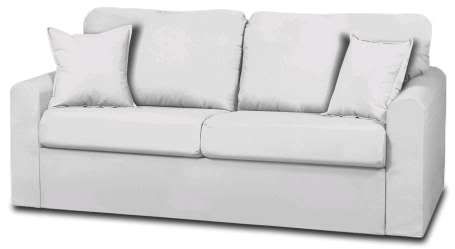 What we love about both places is the small scale the furniture has. (I know I've said it before, but living in military housing doesn't always guarantee you a lot of room. We
have
lived in houses that were too small/our furniture was too big for the rooms.)
Am I a little hesitant about buying a couch that I can't look at, touch, and sit on first though? Hell yeah! Which is why I'm hoping some of you have had some experience with them (or knows somebody who knows somebody...). I want real opinions from real people.
So how 'bout it readers? Comparison shop with me here.
btdub, out of morbid curriosity, i rang up what a pottery barn basic sofa and loveseat would run--$2,982.79 after taxes and shipping! hoe. lee. cow!