I
was reading about
Thrifty Decor Chick
's journey to being debt free. I liked their outlook--they paid cash for any purchases they made, they put a chunk of their savings into paying off their debt, but they didn't deprive themselves of life's luxuries (at least not all the way). And while I wasn't ready to run off and buy
Dave Ramsey's
get-out-of-debt system, something I had read on her blog stuck with me and I'm sure it's the oddest thing anyone's ever come away with. She said something about
never buying new furniture
.
Okay?! Why is
that
what stuck with me?? (So sorry, Sarah, I'm sure that wasn't the point of your eloquently written post, and I'm sorry that's all my consumer driven mind sucked up.) I blame it on my ongoing obsession with new couches. Remember
these guys
that I've been daydreaming about?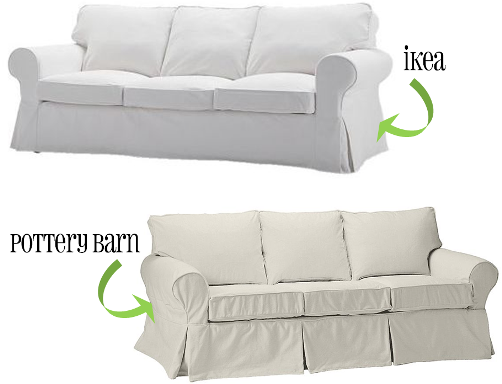 But in any event, good or bad, it did drive me to start browsing Craigslist. I know some people are skeeved to the nines about buying used couches, but to me as long as I can wash the slip covers, steam the cushions, and Febreeze the heck outta everything, why is it any different than buying any other piece of upholstered furniture second hand?
At first searching for things like "IKEA sofa" were producing a lot of random results and I was getting too frustrated sifting through them all. So when I tried "
Ektorp
" imagine my surprise when I was rewarded with a whole page of the words "Ektorp" and "IKEA" in the listing titles (and yes, for you SoCal residents, I did just link you to the very search page I used).
I came across one great listing off the bat which was a set of the loveseat and sofa for only $600 (which you can find
here
if you want to jump on the deal I passed up).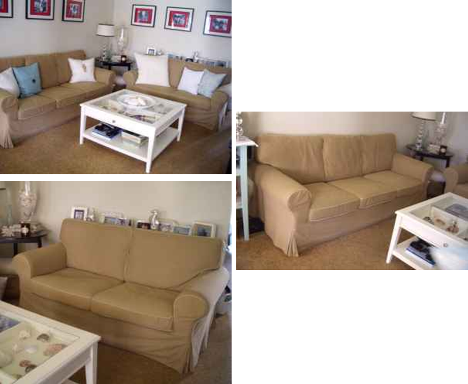 But I decided to try and
see how cheap I could be
go extremely frugal and search for an even better deal which I found in not one but
two
listings.
On Saturday we brought these babies home.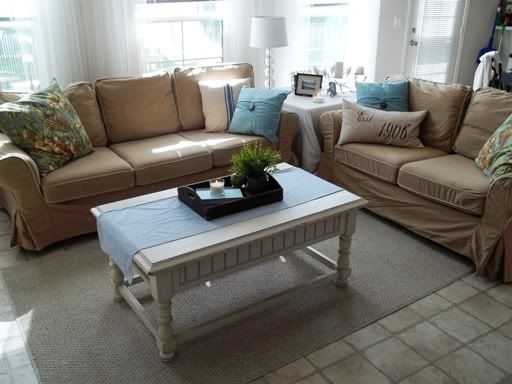 Not for $1063.57 (what the retail price of this combo would have been). Not for $600 (the other insanely good deal listed). We got these for a freaking steal at only $430. Total. I found two separate listings of a loveseat and a sofa--the loveseat was going for $130 and the sofa was going for $300. As fate would have it, they both had the same color slipcover!
I think I eventually want white slip covers, but for now I really don't mind the brown. Kind of helps break up all the neutral we now have in there with
the big jute monster gone
. And with the smaller scale couches, when I do finally replace our rug, I can go all the way down to a 4'x6' and have it fit perfectly! Look how much bigger the room looks.
So thanks Sarah for inspiring me to not go for a brand new store-bought set of couches--you just saved us $633.57!
I'm linking up to:
The Before & After Party
@ Thrifty Decor Chick