W
e're still experiencing days that are no higher than 60-degrees (I know, poor us) so it doesn't
quite
feel like spring time here, but I love love
love
going into my favorite stores and seeing all the Easter and spring decor on their shelves. I grabbed my pal Stacey and we loaded up for a little girls' outing to try and shake away some of these winter-blues. Our choice of store: Pier One. Note: these were shot with my phone, so apologies for the less than desirable quality.
I remember when the over sized utensil look was all the rage, but I never did get into it. Stacey proposed instead we use them in a "Miniature Cooks" Halloween ensemble.
I was in
pink puffy he♥rt
love with these hand painted glasses, the stemless ones especially. But at $8 a pop I just couldn't bring myself to buy them, especially since they're
so
seasonal.
The section of paired salt and pepper shakers had us cracking up. This guy was one of my favorites (followed by the two peas in a pod next to him). My mother has always called Jason "Mr. Monkey" so we hold a special place in our hearts for kitschy stuff like this.
This orange vase with its matching orange flowers were so bright and sunny. Even though orange really isn't one of the colors I use around the house, I was sorely tempted to snatch this display right off the shelf. But I didn't.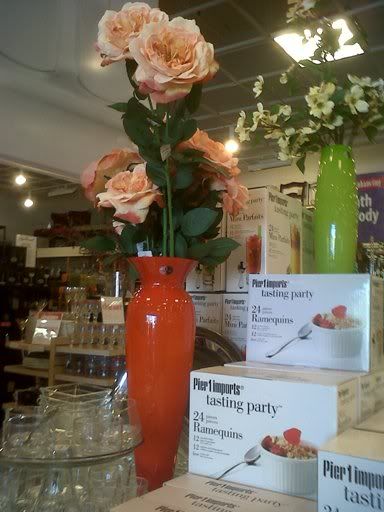 Here's what I
did
come home with. A couple weeks ago Jason and I had visited Pier One just because I needed some inspiration (I was feeling very blah with all the grey skies we were having). Hiding in the wreath section was this amazing lemon wreath that I'd seen the previous summer when he was deployed. My mom and I both loved it but the $45 price tag was waaaaaaay too steep. But when Jason and I went it was marked down to $20! I happily snatched it up. When we got the register it rang up for $11! SO. FREAKING. SOLD.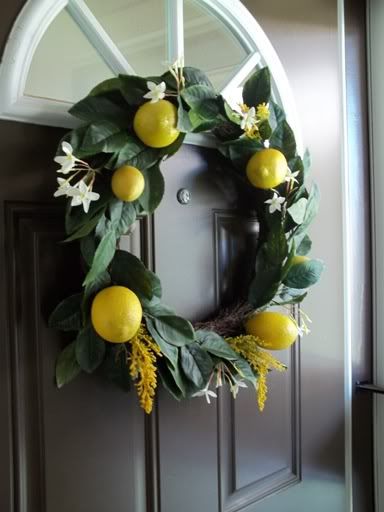 When Stacey and I made our sojourn to Pier One, I grabbed another one to hang above the bed in our master bedroom. I promise to snap a good photo once the bed is made and Jason isn't playing video games (and giving me little scowls for standing in front of the TV because "that's how the wreath is centered!"). He's on leave this week, so it's all about him and his relaxing time. ;)
And last but not least, I picked up one of their scent pods. Sadly it does not give off any type of fragrance (a real bummer because when you sniff it, the vanilla scent is so intoxicating) but it was only $5 and I really like the way it looks sitting on top of my blue books right now. The beads really catch the twinkle of the light in the living room.
So, until the weather starts to warm up outside, I'll just have to keep visitng my favorite places to see those first hints of spring.
What stores are you visitng right now to get inspired for the season?