T
his is where I'd insert some great bluesy harmonica notes if I was all techincal and stuff. But I'm not, so just imagine they're playing a good old fashioned tune in the background!
When I saw this picture I swooned (I have no idea where I found it at, but I'd love to give credit if anyone knows its origins). I fell in love with the tranquil blue chippy paint, the creamy whites, and the little touch of beach it inspired. I knew I wanted something similar for our master bath because it can get very wild and unorganized in there very quick.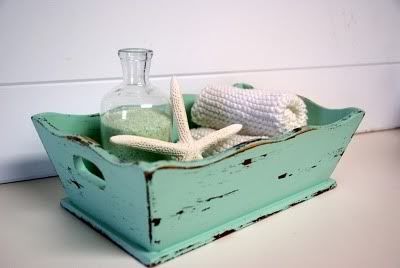 I ended up using something I already had on hand--it was acting as our caddy in the living room.
This tray originally came from JoAnn's and was "white washed" to make it look beachy. I didn't like it so I used some Minwax dark walnut stain on it to give it a richer tone and added some L brackets to the corners (which I rusted using a rusting kit).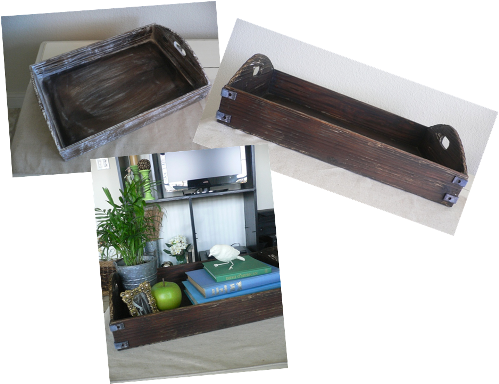 I took some leftover paints I had (a flat white and a semi-gloss turquoise) and started mixing. Once I got to the color I wanted, I brushed it on with a foam craft brush, let it dry, and used a fine grit sand paper to bring out the "wood" grain and color underneath. I'm
so pleased
with how it turned out!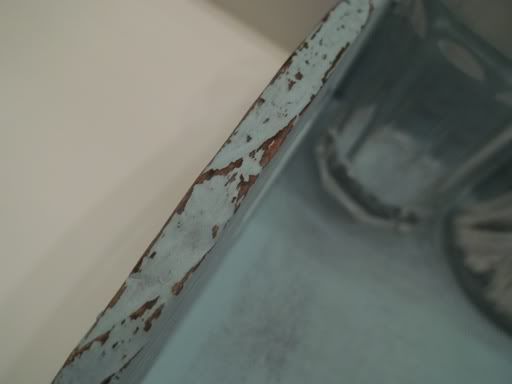 I still want to buy some chocolate colored wash cloths and maybe some nautical soaps to fill up the front portion of the tray. And I'd like to find one large fat white daisy to go in my milk glass vase...
But for $0 I'm very happy with this little organizational project!
Oh, and as for the living room...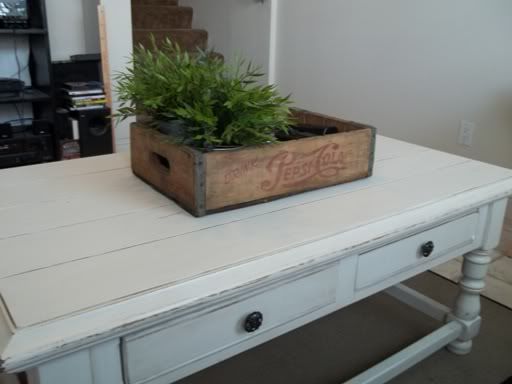 We picked up an old soda crate from Pottery Barn back in April to use on it! I'm loving how old and rustic it looks on our crisp white coffee table and the little punch of red the lettering gives (although I'll be the first to admit I'm a Coca-Cola girl).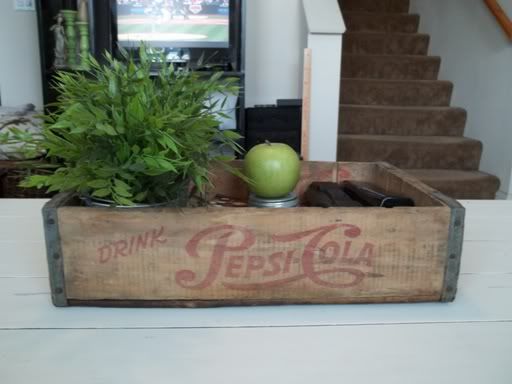 It's also a lot deeper, so we can stack magazines and remotes in there as well.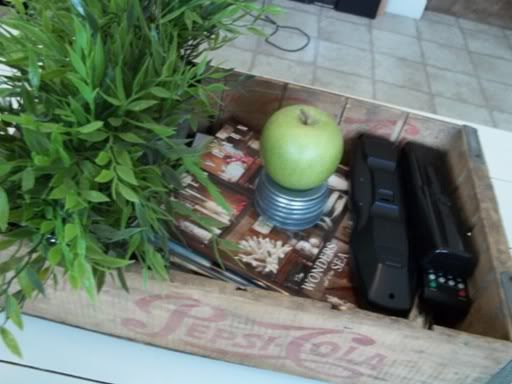 And that's how we sing the blues...