Y
eah okay that was a lame blog title. But I just had to take a moment to gush about the $6 miracle the paint guy at my local Home Depot suggested.
After seeing me hanging around the paint cages so often, the folks at HD were starting to recognize me as the little shorty who always said, "Yes I know what I want," when they opened the cage, only to have me immediately ask, "Where's [insert color here]?" One of them finally asked if I had thought of buying a paint trigger.
Thinking he meant one of those big air compressors, I said "Pffft! No way--do you know how many pairs of shoes I could buy for the price of one of those?!" After he stopped laughing, he handed me a Rust-Oleum brand package with a little tool that looked like this.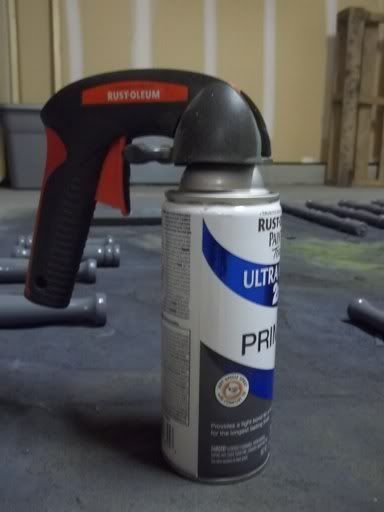 I. LUVRE. IT!! My fingers don't get all cramped or covered in spray paint, and I feel like it somehow makes the paint coverage better too (but that's probably just me). And since right now I'm working on two rather large pieces (can't wait to show them to you!) this little things has been a life (and finger) saver!