A
few months ago I started looking around a our master bedroom. I was feeling very underwhelmed. Black dressers. Black night stands. Black shelves...everything was feeling kind of heavy in there. We have plans to do a little make-over in there sometime soon (details to come later) but one thing I knew had to happen
now
was to bring in a little more warmth. I have a few ideas (maybe repainting the nightstands to a color and getting rid of all our silver accessories) but when I ran across this photo in a Pottery Barn magazine, I knew it was the perfect way to break up all that black.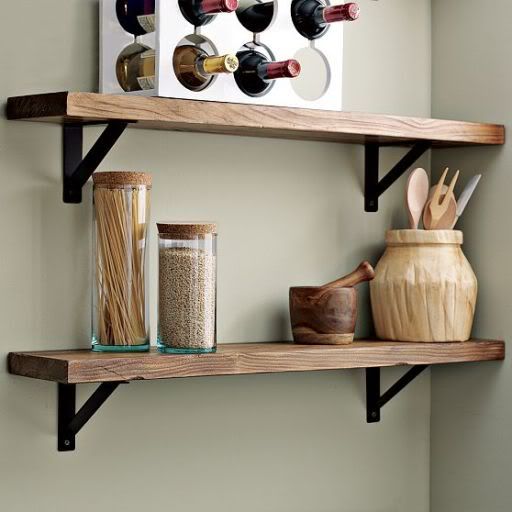 But at about $75 a pop for the 3-foot sizes (and about $54 for the smaller ones), clearly this was a DIY job.
We picked up some brackets from IKEA to the tune of $3 a piece, and a 1"x6"x12' piece of pine wood from Home Depot for about $14. The lumber guys cut it into 4 pieces of 3-feet each (thus also making it transportable in our little 4-door vehicle). I also grabbed a medium sized can of Provincial stain ($8) so I could use it in future projects.
The wood was "distressed" by me taking a hammer, some nails, and a few other odds and ends and banging away like crazy. It got one coat of the Provincial stain (which looked
way
more honey colored on the samples at the store) and the IKEA brackets got a couple coats of grey primer and 2-3 coats of black spray paint.
One they were assembled, this is what we had:
You're only seeing one of them because apparently, I can't take a straight picture to save my life. But there are
two
shelves in our room. Here's what they looked liked before: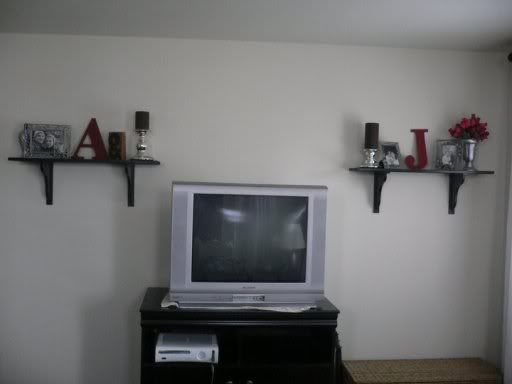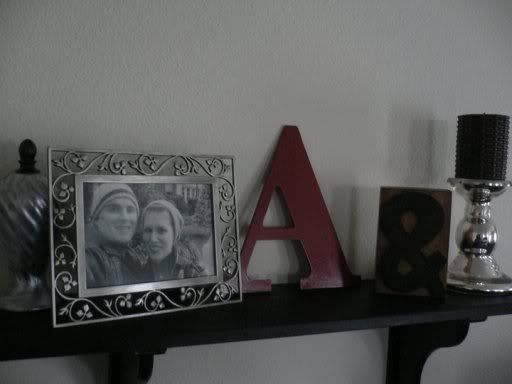 (We've since replaced this ancient looking television, BTW)
The new shelves are slightly bigger, which I was surprised with at first, but now I like. And the decor? Much more de-crapifying friendly (you should see how much room the bookcases are developing)! Oh, and did I mention these babies set us back just $11.50 a piece?? Yep--we made 4 shelves for a total of $46. A little over half of what it would have cost for just one of them from Pottery Barn. And I think they're almost identical.
The pile of decorap (that's my new contraction for decorating crap) is growing slowly but surely. Although now I'm faced with a bit of a conundrum--do I try to sell stuff? Or do I just donate to Goodwill? Hmm...
I'm linking up to:
Thrifty Thursday
@ Thrifting Decorating