Y
ay! Score one for me I marked something off
my list
! Earlier this year (::cough::January!::cough::) my grandma gifted me with this less than desirable cabinet which she was using to house some porcelain "days of the week" dolls.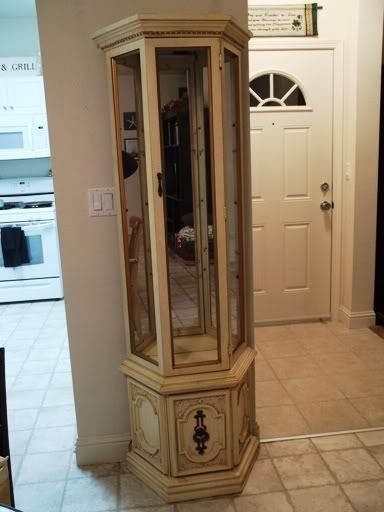 Okay, let me just make this general disclaimer: the lighting in our house S-U-C-K-S!
When they had new carpet put down in their home, they started getting rid of furniture so there would be less for them to move when the installation day came. Somewhere back in my childhood years I made the comment to my grandma that I wanted the cabinet of dolls and it was something she never forgot. I still haven't learned how to say no to my grandma (maybe that's why we've accumulated so much crap) so before I knew it, we were hauling it away--creepy dolls, bad paint job, and all!
The dolls I knew would be given away, but the longer I looked at my fugly new cabinet, the more I realized it had the potential to be the perfect sized hutch in our dinning room, whether or not I wanted to put actual dishes in it, or just start having a better place to display some of my favorite decor pieces.
This thing had more staples, screws, hinges, and junk holding it together than I even care to rehash! The paint job was the
worst
I'd ever seen in my life (
vanilla speckled accented in gold? genius!
) and more than once I wondered if this was going to be a huge DIY disaster (would we even like it when I finished?). But once it was primed, I was feeling much better. I even opted
not
to put the lower cabinet door back on, and instead decided to paint the bottom of the backer board with a shot of turquoise spray paint (Rust-Oleum, Lagoon).
I had every intention of putting the mirror back on, but as we were hammering the backer board into place, the mirror fell and shattered into a billion pieces. One of which ended up in my leg (insert horrified screaming here). I was so bummed I shelved the entire project for about 3 weeks.
Then I saw (and pinned!) this from The Lettered Cottage.