W
e interrupt our regularly scheduled
programming
packing to bring you this news: we've made some very fun purchases for the new house already! I'm so anxious to get stuff up and show everything off, but our official (big truck) move doesn't happen until tomorrow, and it will still be a good week before our rooms start looking picture worthy. But in the meantime, I had to show you some sneak previews (are these movie-style monikers working for you)? ;)
Our new house has air conditioning (we don't have it on base), but no ceiling fans. And our new city gets H-O-T hot! So we bought
this ceiling fan
for our master bedroom (which currently has no overhead lighting) from Home Depot for $63 after military discount to help keep our electric bills down.
Right now the light in the dinning room is a yellow shell shaped blown glass pendant. I'm sure some people would love it, but it's definitely not our style. Instead, we picked up
this industrial little guy
. Stayed tuned, because both of our lighting projects should be interesting--we've never hung new lights before.
After years of sleeping on just a metal frame, we finally bought a bed with side rails a foot board and everything! It took several trips to IKEA and the promise to repaint it, but we purchased the extremely budget friendly
Leirvik frame
. It's out in our garage right now drying (one of our friends came by and laughed that we were still doing DIY projects in the middle of packing). But since the bed is one of the first things we want to set up when we get to the house, it has to be done before it's loaded on the truck.
After we struck out on our Pottery Barn rug for the living room, I had the idea to purchase a simple Ergeby rug and paint it like
some of these I had seen
. But when we realized the rug I wanted to use has the feeling of a very rough jute, we nixed the idea without a second thought (see why we hate jute rugs
here
). Then we saw
this gorgeous thing
and nabbed it. Bonus? $40 cheaper than the same size Ergeby rug.
And finally (for our bigger purchases), we decided to step outside our comfort zone a little by purchasing
these funky curtains
for our new bedroom. The colors online look way more bright and crazy than they do in real life, but we've never had patterned curtains like these before. A pack of two was $25--more than we normally spend, but not a bad price (and to be fair, this is coming from a couple who's notorious for using $2 sheets as curtains). But our new master bedroom only has one (very large and gorgeous) window, so we figured we could splurge a little (the current room required us to buy curtains in sets of three, hence why $25 curtains were always a no-go for us tightwads).
There were a lot of little purchases too (I'll spare you the laughing-at I got from Jason as I walked out of the accessories section with four new faux-potted plants), but these items are going to be the key pieces that help bring together the new color scheme in this house. And
massive
renter's bonus? I'm not surrounded by white walls anymore!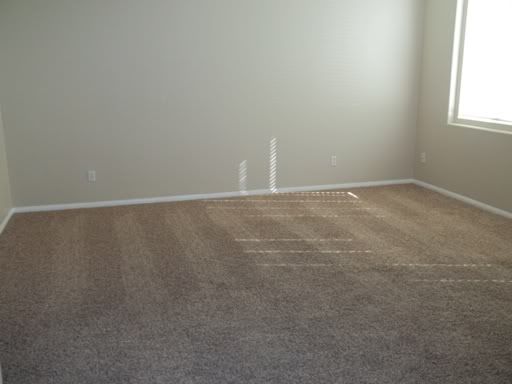 The first peek at our new place (the living room)!
Hello color!
We now return you to your previously scheduled programming packing...